site links

10/27/18 | Nevada Southern Railway - On a previous trip I passed by the Nevada Southern Railway, so I had a mental note to go back there someday and take a ride. I had a day off, so I drove up to Kingman Friday planning to ride the NSR on Saturday. The station/museum is just past the Hoover Dam in Boulder City. The line itself used to service the Hoover Dam during construction. In addition to the 4 operational diesel locomotives, they have several trains on display, a caboose and a postal car that you can tour, and a gift shop. The entire area is covered, which is not a bad thing in the desert. It's not big, but it's free to look around and only $10.00 to ride the train.

For my trip, the train was being pulled by a GP-30, built in 1963. The passenger cars were all of 1910-1916 vintage. They were a mix of open air and standard coaches. They were clean and comfortable, not exactly restored to concours condition, but nice enough and comfortable for the 40 minute out and back ride. There is no assigned seating, but on this day, there was ample seating for all. I went with a standard car, sat facing forward, and settled in for the ride. The train was smooth and the trip was nice enough, but there is not a whole lot of scenery with the exception of desert scrub and mountains.

There was nothing particularly bad about this excursion. The accommodations were clean and comfortable. The staff were friendly, and the ride was cheap. If you are driving through the Boulder City, Nevada area and you are a train buff, it's worth stopping if your schedule permits. But I can't recommend this as a destination trip. The ride is just too short and not that scenic. You can see some other pictures from this trip and all of my train photos here. For more information on the Southern Nevada Railway, visit their website at http://nevadasouthern.com
---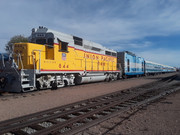 The train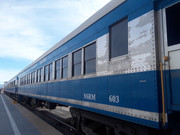 Passenger cars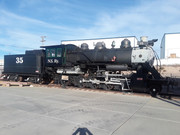 Steam locomotive

10/14/18 | International Banana Museum - It was Sunday and the Eagles weren't playing so I decided to go somewhere offbeat. The International Banana Museum was only 230 miles away so it seemed like a sensible thing to do. I called ahead to make sure they would be open, so Sunday AM I set out to see all things banana. I figured out from their web page that this was on the smaller side so when I pulled up it was kind of what I expected, small and unassuming. There is a $1.00 fee, but if you buy anything while you are there, the fee is applied to your purchase.

As soon as I went in, I went into banana shock. This place may be small, but it is packed with what I'm guessing is anything and everything related to bananas. I was greeted upon entering by a friendly person who thanked me for coming in and "going bananas". There are several display cases loaded with banana themed stuff, posters/photo's everywhere, and a bar where you can get shakes, splits, and other goodies. I saw some great items that flashed me back to being a kid like BB Bats and El Bubble bubble gum cigars. But that is the tip of the iceberg. The breadth of banana themed items is just too large to describe. You have to see it.

I had a banana split for lunch (I felt it was more like an obligation) and it was pretty good. And I took the proprietor's suggestion of sitting at one of the cafe tables so I could look around more as I enjoyed my lunch. You get a different perspecive of the very full cases that way and you can discover more things that you may have overlooked the first time. Was it worth the drive? For me it was. If you find yourself crossing Cali on I 10, consider a slight detour. There are a couple additional pics here. You can check out the museum's website here - internationalbananamuseum.com.
---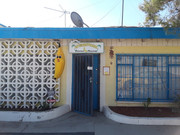 Exterior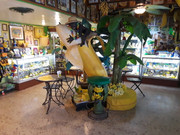 Interior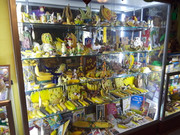 Display case

09/08/18 | MAD Adventure - Mountain A Day. Or that's what what proposed to me by my friend Luke. He's been getting more and more active and he proposed this hiking trip in the White Mountains of New Hampshire as a follow up to last year's RAGBRAI trip. I had not been camping/hiking back east for a long time so of course I was in. We would set up a base camp at a commercial camp ground and then do day hikes in and around the White Mountains. We camped along the Saco River at the Crawford Notch Campground. We had a nice river site and a monster eight person tent. Short of having a cabin, this was as glampy as I've ever been so I had a good feeling about this week.

We ended up doing 7 hikes in 6 days, but not each one was a summit. But that fit in with the weather and with our own level of ability. One hike that stood out in particular was the Webster Cliff Trail. It started out like a trail that I'm used to from eastern PA, but it soon became clear that if we were going to make it up to the cliffs, we had some climbing to do. The ascent was challenging and there were parts where I thought that they just put two blazes on two trees and didn't bother to establish a trail. But in the end, it was well worth the effort. The views from the ridge were great and the outcroppings were large enough to feel safe, even at that height. We met a couple thru hikers along the trail and shared our grub with one of them.

Another notable hike was the Alpine Garden Trail on Mt. Washington. We hiked on the lower side of the mountain earlier, but decided to drive up to the top and then try out this trail above the treelines. It was a nice flat trail except for the descent and subsequent ascent back to the parking area. Since there are no trees to put blazes on, you navigate via the cairns (stacks of rocks). We had some fog so the views off the ledges were not as clear as they could have been. Still, it was clear to me that we were on the top of the highest peak in the eastern US and that venturing too close to the edge was not a good idea.

The final hike of note was in Woodstock, NH. There is a crash site for a B-18 bomber that crashed in 1942. There is no offical trail, but it is pretty well marked and we followed directions from this site. This debris is pretty much untouched since the crash. There are two memorial plaques and a lot of recognizable airplane parts. I had never heard much about the B-18, but spent the better part of the next night looking it up and finding out more.

The shear number of hiking options makes this area a great choice for east coast hiking. It can get a little crowded so weekdays are better if you want the trails to yourself. We met some cool folks and shared some stories. I had crafted a hiking staff from a fallen branch and notched it for each of our trips. I left it behind hoping that someone else could use it for their hikes. I'd like to think that I'll go back next year and see it with a whole lot more notches!
---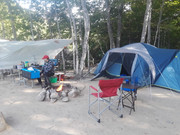 Campsite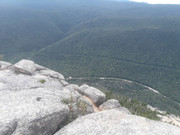 Webster Cliffs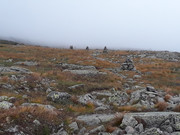 Alpine Garden Trail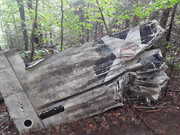 B-18 Wreckage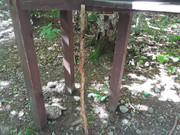 7 Hikes, 7 Notches

07/28/18 | Steam Trains - I've been a fan of trains since I was a kid so I decided to take a ride on two great old steam lines this weekend. The first was the Cumbres and Toltec which runs from Chama, NM to Antonito, CO. The second was the Durango and Silverton, which goes from Durango, CO to Silverton, CO. Both are remnants of the Denver & Rio Grande Railway, which was a narrow gauge railway (3 ft) that provided mining and some passenger services. These lines no longer connect, but they do share a common origin. Both run old steam locomotives too.

I got on the Cumbres and Toltec in Chama, NM. They have a nice station with a ticket office, concessions, and some static displays. I booked a first class ride to Antonito with a bus ride back. The first part of the ride is the ascent to the Cumbres pass. It's a steady 4% climb to the Cumbres Pass (10,015 ft). After that, you have some nice switchbacks until you get to Oiser where you stop for lunch. Lunch is part of the package, supplied by the railroad - Oiser is not an active town. From Oiser to Antonito, you cross the NM/CO border about 11 times. There is also a nice double horseshoe curve which makes for some great photo opportunities.

On Sunday, I went up to the Durango and Silverton. I was booked for an out and back trip in coach class with a window seat. The station in Durango has a lot to see if you get there early. For my trip, the first part of the line was washed out so we bussed it up to Rockwood to load up. The good part about that is that you don't do the ride out from town, you get right to the good stuff. There are some great views of the Animas River along the way as you follow the river most of the trip. Silverton is a touristy, but nice destination and for me, the 2 1/2 hour layover allowed me to explore the town and have a few beers. I did an out an back on this trip and it was fine. You get very different views from either side of the train so you aren't really seeing the same things on the way back.

Both of these lines are great. The Cumbres and Toltec stikes me as more of a grass roots endeavor while the Durango and Silverton is more commercial. I can't recommend one over the other as both are great. On the C & T, I like first class. You get a dedicated host/attendant/guide and the accommodations are nice. On the D & S, I'd recommend the Open Gondola (Standard Class). The seating is optimal for getting the best views. Just make sure you plan for the weather. Check them out at these links. If you want more info, drop me an e-mail. Click these links for the Cumbres and Toltec or the Durango and Silverton. Watch my shaky YouTube video of the Cumbres and Toltec here.
---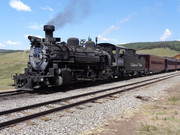 Cumbres & Toltec locomotive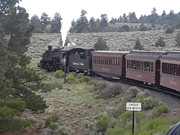 Cumbres & Toltec on a curve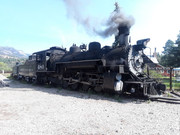 Durango & Silverton locomotive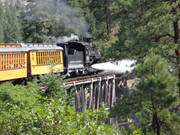 Durango & Silverton on a trestle

07/07/18 | Tiny Churches - I'm not a religious person, but these tiny churches fascinate me. There are several in Arizona, and these are my two favorite. Both of these are basically put up by private parties and exist as roadside attractions for anyone to stop, pause, and worship. People may chose to leave donations, but there are no fees and these are both unmanned. You really do just stop, reflect, and then move on. The Salome church is 8 x 16. It sits on private property, but there is a roadside sign encouraging you to pause, rest, and worship. The Yuma church is closer to 8 x 12. Like the other, there is a roadside sign encouraging you to pause, rest, and worship.

The Salome chapel is several miles off of I-10, exit 80. It's near the town of Salome, but it's not an interstate drive by. You will need to seek this out if you want to see it. However, it is quaint and charming and it is a non-demomination place of worship, that seems to invite all who find it. I go there several times each year since I have moved to Arizona. I don't stay long, but for me it is a nice place to re-center myself and to reflect on things. It used to have 4 folding chairs to give it seating for eight, but they have been removed. Perhaps it is to allow wedding parties to stand? I'm not sure, but either way, it's still inviting.

The Yuma church is several miles off of I-8 just outside of Yuma. This one appears to be on a working farm and like the Salome chapel, you probably won't find it unless you are looking for it. (P.S. look for it!) One of the neat things about the little church in Yuma is that this one seats twelve congregants in spite of being smaller than the Salome church. Another interesting observation about the Yuma church is that I always see a lot more in the way of remembrances there. Sometimes it's a bottle of pop or a dollar bill with the person's name written on it. Today it was a picture of a young lady who was taken much too soon inscribed with the memories of a person who lost her.

Although both of these are a bit out of the way, I make it a point to visit them whenever the opportunity presents itself. Neither place has an official website, but they aren't hard to find on Google.

Here's a link about the Salome church. http://alldaymom.com/little-roadside-chapel-az/
And here's a link about the Yuma church. https://www.roadsideamerica.com/tip/2426
---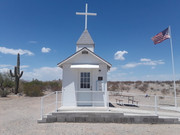 Salome exterior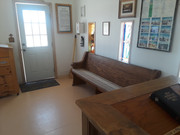 Salome interior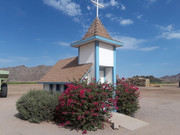 Yuma exterior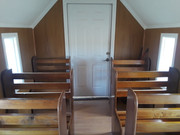 Yuma interior

06/07/18 | Canadian Grand Prix - June brings my annual trip to Montreal for The Grand Prix of Canada. It's a three way win for me as I spend time with friends back east, I see three days of racing, and I get to spend time in Montreal. The 8 or so hour drive through PA, NJ, and NY is nice and it's a great way to catch up with my friends. Crossing the border into Canada is typically a non-event, and we get into town on Thursday night in time for three days of racing. Thursday night is one of the best times to go to Old Town if you want to avoid the crowds. This year, like most, we stopped for dinner at Modavie and I had my traditional meal of steak frites. They had a two person music act on stage which added some nice jazz music to the evening.

There are many room options in a city of this size, but we typically book our rooms a year in advance because the race weekend usually means a sell out everywhere. This year, we found a great B & B called La Conciergerie. It's two victorian homes combined into a 17 room guest house. I was quite pleased with the accomidations. They serve a nice continental breakfast and have a great patio/garden to relax in. Additionally, there is a shared living room and a breakfast area. There are no televisions in the rooms and you may have to share a bathroom with a couple other folks, but neither of these were an issue for me. It's only a block away from the Metro and within walking distance of Old Town, The Latin Quarter, and other places of interest. The hosts, Luc and Michael were great. I'd go back there again, even for a non-race weekend.

The main reason for this annual trip, however, is the racing. The F1 weekend starts Friday with practice, some racing an qualifying on Saturday, and the Formula 1 race on Sunday. The support races usually include Ferraris, Porsches, and Formula 1600's. I'm not a fan of the 1600's but the Porsches and Ferraris put on a good show. Our seats are at the hairpin (turn 10) which is a place where you are likely to see some passing. There are two jumbotrons to see the action when the cars are not in view. It's probably the best place on the track to watch the race, in my opinion.

For the main race, as in the supporting races, the hairpin is one of the best places to see passing. Unfortunately, this year had little to no passing and while the qualifying was excitng, this year's race was a bit of a snoozer. Qualifying looked promising with three teams evenly spread across the top six positions, but the first three starters were the first three finishers. As much as I love Montreal, me and my friends are considering some other venue for racing. I would still like go back on a non race weekend to see more of the city and what it has to offer.
---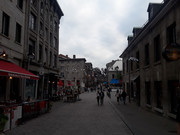 Old Town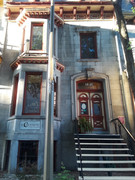 La Conciergerie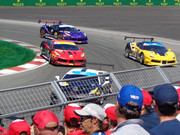 Ferrari Challenge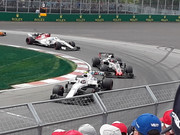 F1

05/10/18 | Verde Canyon Railroad - I decided to treat myself to a train trip on the Verde Canyon Railroad. The VCRR is a excursion line running on an old freight/copper line in central Arizona. This passenger trip does a 20 mile out and back from the depot in Clarkdale to Perkinsville. The locomotives are a pair of 1953 General Motors EMD FP7's that were obtained from an Alaskan railroad. The cars have been restored and are quite comfortable while keeping a vintage feel. I elected to go first class. It's a $25 upgrade, but I think it's worth the extra cost.

The depot has a gift shop, a cafe, and a small museum. The museum is nice and worth a visit. There are also a lot of informational signs on the grounds which are interesting. If you are looking to eat or grab a drink, I recommend picking up your tickets then heading into Clarkdale instead if you have the time. Most trains board at 12:40 so plan accordingly. If you are like me, you always arrive early, so you'll have the time. The gift shop has a lot of nice stuff if you are looking for a gift or some memorabilia. I passed this time, but might pick up a few things next trip.

Upon boarding, you are directed to your reserved seat. I was at a two person table right on the right side window. My hostess, Jennifer, was very friendly and knowledgeable. Once I got settled in, I had a very good bloody mary and prepared for some sightseeing and relaxation. They set the mood well with a eclectic mix of railroad themed songs like Train Train, Boogie Woogie Choo Choo, Take the A Train, and others like that. They also have a pre-recorded narrator to point out some of the scenic items along the route.

Pulling out of the station, you will see a massive slag pile which is a leftover from the mining operations in the area. It's a big pile of lava like rock that was held back with pipe and sheet steel. Admittedly fascinating and disgusting at the same time, you need to remember that the views get better. After clearing the slag pile, you start to see the river, which you will parallel for most of the trip. There are some pretty good switchbacks in the beginning that give you great opportunities to get a side view pic of the train. After a bit, you'll be in the canyon and see the walls close in and get higher. The narrator and the hostess point out things along the way and you can also just gaze out the window. One of the highlights to me are the two homes that predate the National Forests and have been grandfathered in. There are some caves carved into the canyon walls that show signs of human habitation. There is also a cool curved tunnel where you can't see the exit from the entrance. The thing that I like most though is the river views and the high canyon walls.

When you get to Perkinsville, the train stops and the locomotives go to what was the rear of the train and hook on to take you back the same way you came. I like it as it gives you the opportunity to see something that you missed, or see something you passed from another view. FYI, there is pretty much no internet/cell connectivity on the trip. I consider it a plus. Disconnecting for 4.5 hours just adds to the relaxation. For more info on the Verde Canyon Railroad, go to verdecanyonrr.com.
---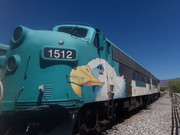 Verde Canyon locomotives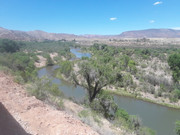 Verde River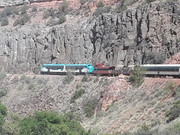 Taking a curve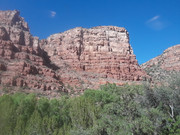 Canyon view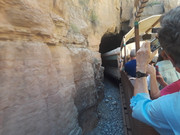 Tunnel entrance